Overview
Businesses that received PPP loans can apply for loan forgiveness. As we explained in our COVID-19 Maximize PPP loan forgiveness article, it is important that you monitor and spend the loan amounts wisely so that you get maximum loan forgiveness. Many tools have been designed within our COVID-19 dashboard to assist you in monitoring how you spend the money.
Now that we are entering the loan forgiveness phase, we have added two additional dashboard items. Note that in an effort to assist you, we have structured the field names and field order to somewhat mirror the names and order of the various fields on the PPP Loan forgiveness application so that you can easily know what belongs where on the PPP forgiveness application.
Important Update: On June 3, 2020, the Senate passed H.R.7010 - Paycheck Protection Program Flexibility Act of 2020. As its name suggests, it provides much more flexibility to borrowers and is also expected to change the loan forgiveness application items. We have outlined for you a Summary of Paycheck Protection Flexibility Act. Rest assured we are on it and we are evaluating the additional items needed to easily fill out the loan forgiveness application. As soon as the SBA or Treasury Department provide updated guidance as to how the loan forgiveness application is changed as a result of this act, we will modify the loan forgiveness tools and ensure that you have all the necessary items so that you can easily fill out the loan forgiveness application.
Following are the COVID-19 dashboard forgiveness application items:
Forgiveness Schedule A Table 1
This report populates Table 1 of the application for employees under $100k, including Table 1 data, the details for all the steps we did to compute the data, and the final step we go through to compute the wage reduction.
Following is a list of items on the loan forgiveness application which we included in this module:
Employee
Cash Compensation
Avg FTE
Salary / Hourly Wage Reduction
Step 1.a
Step 1.b
Step 1.c
Step 2.a
Step 2.b
Step 2.c
Step 3.a
Step 3.b
Step 3.c
Last Step Completed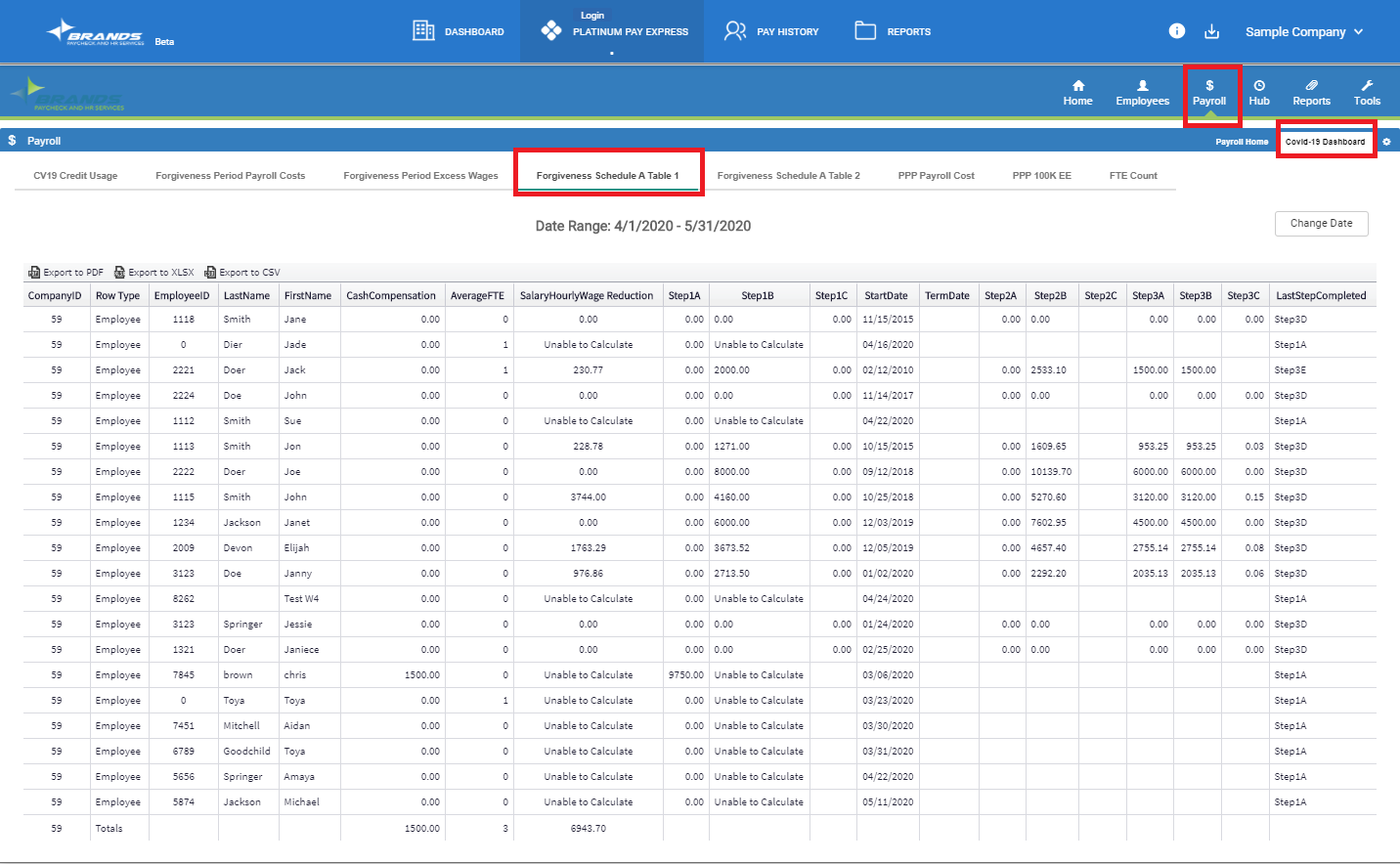 Forgiveness Schedule A Table 2
This report populates Table 2 of the application for employees over $100k and will list the following columns:
Employee
Cash Compensation
Avg FTE