PPX
Jump to:
What is a manual check?
A manual check is a check issued outside of payroll. It's used if someone forgot to pay an employee or paid the wrong hours, and the payroll has already been completed.
Manual checks necessitate a physical printout and cannot be processed through direct deposit.
While they won't be reprinted in the subsequent payroll run, they will be accounted for in the upcoming payroll reports (listed as "Manual") for tax payment purposes.
Keep a copy for your records since a usable copy cannot be retrieved once processed with payroll.
Create a manual check
To create and view manual checks:
From the Payroll (PPX) dashboard, click Manual Checks.




Select the check date, division, and employee; input the check number and click Add.




Input the check details: pay code and hours/regular pay.


Click Continue, then Save and Calculate. Continue.


Note: Your saved manual checks will automatically be added to the list when you process payroll.
Print a Manual Check
To print the check:
After the manual check is saved, load your check paper.
Select the Pay Check icon to print the check.


Print Manual Check from PayDeck Dashboard
For a quick shortcut to print a manual check, click Manual Checks on the PayDeck dashboard and send the processing request. The manual check will pop up at the top right and will be available in your Generated Reports.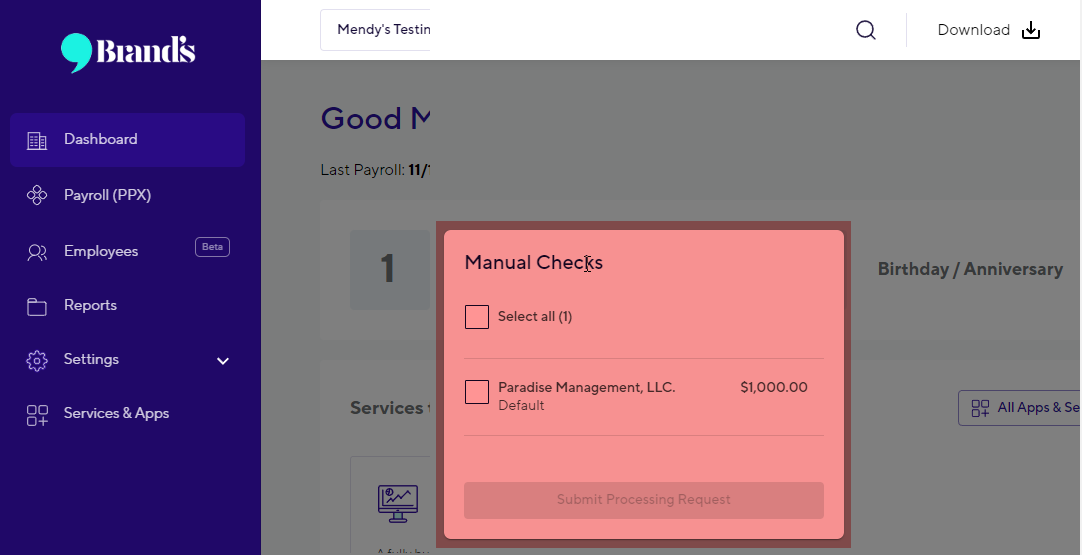 View Manual Checks Not Yet Added to Payroll
To view manual checks that haven't yet been added to payroll:
Switch to the Payroll tab
The check details will be displayed in the Manual Checks section.


For more info, see About Online Payroll.