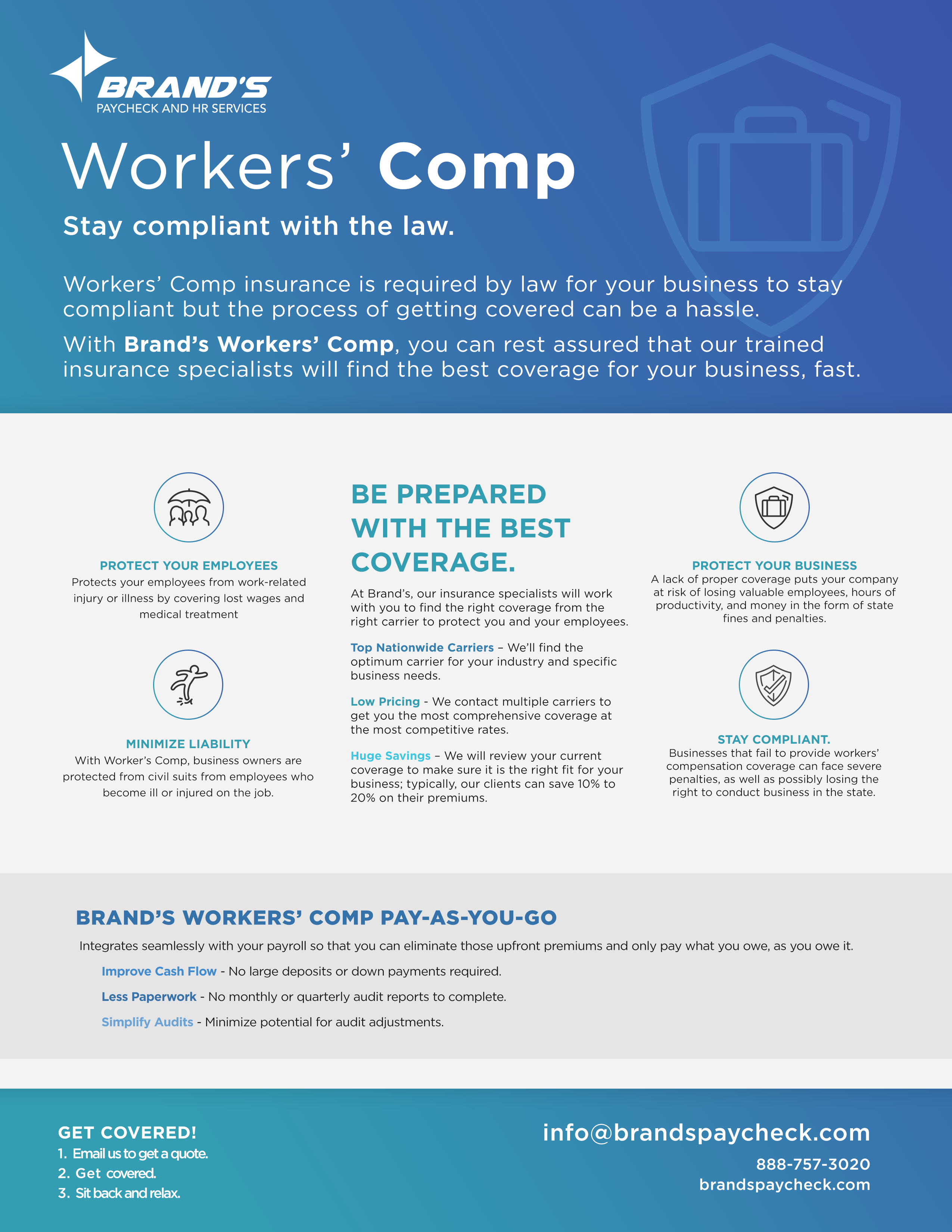 What:
Pay Workers' Compensation insurance premiums "as-you-go" - based on your actual payroll, not projected annual amounts.
Why:
Only pay what you owe, as you owe it. Traditional workers' comp premiums are estimates of the annual payroll, paid by employers in advance with a large deposit (sometimes divided into installments) followed by a lump sum adjustment at the end of the year, after calculating the year's actual payroll amount. With Pay-As-You-Go Workers' Comp, you avoid underpayment or overpayment, eliminate those costly down payments, and minimize lump sum adjustments.
How:
Brands automatically transmits relevant payroll information along with a list of employees' eligible workers' compensation wages to the insurance carrier for each payroll run. The carrier then emails your premium amount due and the amount is automatically deducted from your bank account.
Features and Benefits:
Maximize cash flow and increase working capital with premiums paid on actual payroll - no large deposits or down payments required

Avoid underpayment or overpayment - often as much as 10-25%

Know your exact cost each pay period

Simplified paperwork with minimal to no monthly or quarterly audit reports

Minimal to no year-end audit

Competitive insurance rates (single source access, multiple insurance companies)

For clients who use our GL or job costing, Workers' Comp is added for more complete reporting

All the heavy lifting is taken care of by us
Price:
$5 per payroll for Workers' Comp file upload (service fee)
$25 setup fee
The policy itself has no set rate - it requires a quote based on company details. We can help you find a carrier for the best rates available.
Add to Your Account:
To add Workers' Comp Pay-As-You-Go to your account, contact us at cs@brandspaycheck.com.
- - - - - - - - - - - - - - - - - - - - - - - - - - - - - - - - -
FAQs:
How much is the insurance going to cost?
There's no way we can give you a price. It's based on the carrier and class codes of your employees.
--
How soon can I start?
After the form is completed, you can expect to receive the certificate within 24 hours.
--
What if I operate without Workers' Comp insurance for a day or two?
You can be fined by NYS $1,000 per day for not having coverage.